Family hotel Art Pension Dans Le Parc in Banska Bystrica offers accommodation services since August 2008. It is located downtown Banska Bystrica at Tajovskeho 8A Street. A stone throw away is a popular serene City Park. Historical downtown is only 5 minutes walking time.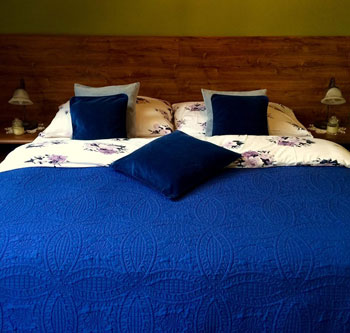 We offer accommodation in nicely furnished attic single and double bedrooms, one triple bedroom and two suites.
Overall capacity of our guest-house is 16 beds. They are equipped with TV, radio, internet connection, refridgerator and a full bathroom including toilet.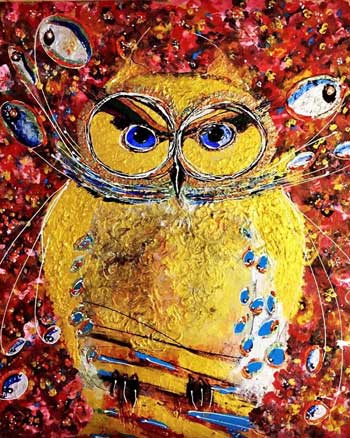 The lounge is also available for organizing small aniversaries, receptions and meetings. Available is also a conference room with internet connection and plasma screen TV with related accessories located on the ground floor.
Parking area is monitored via a camera system. Our professional staff is at your service at the reception. We are happy to answer your questions or provide suggestions on how to spend your time in this area.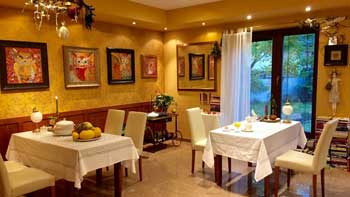 Beautiful and very cozy guesthouse, in a quiet location and yet close to the center. Very clean, super breakfast and nice lady owner. Beds are comfortable, my taste may be too soft and comfortable. We felt very comfortable with our wife and we definitely recommend staying here.
Stanislav -SK-
The offered services resp. comfort and equipment at a given price in Slovakia very unprecedented. In this case 1 * does not reflect reality and many 3 * devices would have to be red …
Michal -SK-
If you want to enter a fairy tale or another world, you need to arrange accommodation in this guesthouse. Exceptional environment (interior) very tasteful equipment. Also suitable for small work colleges for training, at least in my opinion. Very willing owner, She went out in all.
Pavel -SK-
It's hard to write what I did not like in such a wonderful guesthouse …. Its atmosphere has also surpassed accommodation in luxury hotels, where you are only a number. You are a guest at the guesthouse.
Fragile cleanliness, luxux, elegance and all that pleasant experience underlined by a rich breakfast. The staff that makes you feel comfortable. Thanks to Art Pension, I have very nice memories in Banská Bystrica and I'm looking for reasons to come back.
Katarína -SK-
Art Pension dans le Parc is an eclectic, comfortable spot to stay in. Our room in the attic consisted of a large bedroom with small table and chairs, a sitting area, foyer, toilet seperate from sink and shower very spacious. Windows sky light like above the bed were great and opened. The bed was really comfortable and bedding nice also. The breakfast was delicious and more than we could eat.
Lois -Canada-
Stylish interior and exterior. When you come in, you can feel very nice scent across rooms.All the decoration in the dining room and outside of the house simply excellent. I recommend! 🙂
Josef -CZ-
Perfect. all is so great. Suzana is amazing person with not typical kind behaviour. The pension is clean ,decorated in magnificent way,silent,nice garden. The room is so convenient. Breakfast is the best-dont miss it.
Noam -Israel-
Looking forward to your visit
Tajovského 8A, 974 01 Banská Bystrica